Indoor Air Quality Solutions to Ensure Your Comfort at Home
When it comes to the air you breathe at home or the office, we want to help you stay healthy with indoor air quality (IAQ) solutions that deliver professional results. Air Majic A/C & Heating has over 30 years of experience ensuring the comfort of our customers, and that includes cleaning indoor air. Contact us for information about how you can provide better indoor air quality for your family or employees.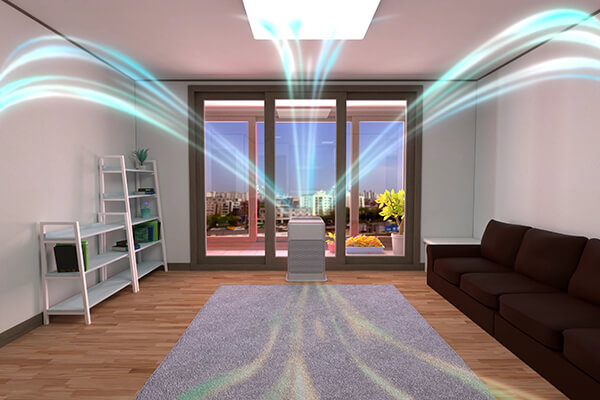 Signs You Need Professional IAQ Solutions
Dirty indoor air contributes to a variety of problems at home or the office, including health problems. Call us for an indoor air evaluation if you notice any of these potential signs of poor IAQ:
Dry, itchy, irritated eyes
Unexplained headaches
Respiratory issues
Dust visible in the air
Bad odor coming from HVAC system
There's no need to let your health suffer. Contact us today to discuss our affordable solutions and enjoy a better quality of life.
Types of Indoor Air Quality Systems
Whole-House Air Cleaner: A great solution for homeowners who want a comprehensive solution, these air cleaners filter out dust, smoke, pet dander, dirt and other indoor air pollutants to deliver high-quality air.
UV Cleaning Systems: Using UV light in your indoor air quality system provides sterilization of the air, eliminating micro-organisms such as bacteria, viruses, mold spores and more. Some UV cleaners can also remove chemicals, solvents and other harmful pollutants.
Air Scrubber Purification System: The popular Air Scrubber product provides a complete, whole-house air purification system that reduces annoying allergens, bad odors and other particles.
Ask About Indoor Air Purifiers – We Service & Install Them All!
Air Majic A/C & Heating has the expertise you want when implementing air cleaning and purification solutions for your home or business. We've helped hundreds of customers achieve better indoor air quality and we would love to do the same for you. Call us today at (512) 791-7563 or fill out the online contact form to request a free quote!